Nature As Healer
Tuesday, March 2, 2021 — 6:30 pm to 7:30 pm
Discover how nature can help create peace, connection with others, guide, calm, inform and restore you.
March 2, 2021
Events > Nature As Healer
When
Tuesday, March 2
6:30 pm to 7:30 pm
2021
Where
Online Meeting
THIS EVENT HAS PASSED.
The pandemic makes it clear that we discover creative and new ways to stay healthy, connected, and wise. Discover how every day and anywhere nature can guide, calm, inform and restore you.
Empirical studies conducted over the past thirty years confirm that contact with natural world and meditation can lift your spirits, reduce anxiety, alleviate pain, increase brain function, and help cultivate a sense of belonging and compassion. Beautiful and compelling images support Marlow's talk on the challenges and rewards of connecting with nature while living with the challenges of a global pandemic in a mass-technological culture. After the presentation you will experience the simple power of nature's healing effects through a deep-guided meditation and nature activity.
About the Presenter
Marlow Shami, M.S. is a nature-based educator, artist, and writer who conducts nature based healing workshops and talks throughout New England specializing in the healing connection between humans and the natural world. Learn more at her website marlowshami.com.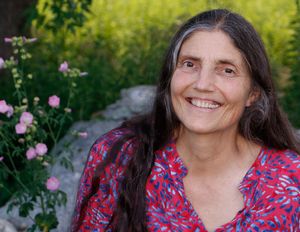 Video Chat
We will meet online with a video chat using Webex. If you have never used Webex before, it is very simple and user friendly. To use on a computer, you simply paste the link that we will provide to all registered patrons into your browser. For computer, no download required! To use on a smartphone or tablet, you will need to download the Cisco Webex Meetings app.