August Newsletter
Lawn games, summer reading, new Spanish and Polish collections, and more!
August 2, 2021
From the Library Director
Hello!
August is here and at the library that means sun, a few showers, and summer reading! For many here in Connecticut, August is a time to be outdoors and enjoy the warmth before it fades into fall. Others are content to stay inside with air conditioners on (that's me!) We're delighted to bring back selected, small indoor programs this month including Poured Paint Planting Pots, Senior Center Book Club and Sit & Knit. It's been a long 16 months without indoor, in-person programs and we hope you enjoy seeing each other as much as we enjoy seeing you!
We recently introduced lawn games available for checkout including croquet, ring toss, and corn hole so you can soak up the sun (and fun!) outside. And of course, it's not too late to participate in our summer reading!
I'm grateful for our amazing staff who have kept our community engaged with new books and recommendations, Take & Make programs, story times, and outside games, events, and programs for all ages. Thank you to you, our patrons, who have supported this work. We strive to ensure that your needs are being met—in-person, online, or on-the-go!
As we plan for future library programs and services, please let me know how we can enhance our service to you. Send me an email at kmcnally@berlinpeck.org or call me at 860-828-7131.
See you at the library!
Warmly,
Kim McNally
Library Director
Library Hours
Weekday hours are 10am–8pm, 5pm on Fridays.
Saturday Hours are 10am–4pm.
Senior hours are Wednesdays and Fridays, 9am–10am.
Book drop is now open 24 hours a day, 7 days a week.
Curbside pickup is still available!
Spanish and Polish Materials
Coming soon! The library is adding books in Spanish and Polish. The collections will be located on the short shelves in the adult section, near the paperbacks.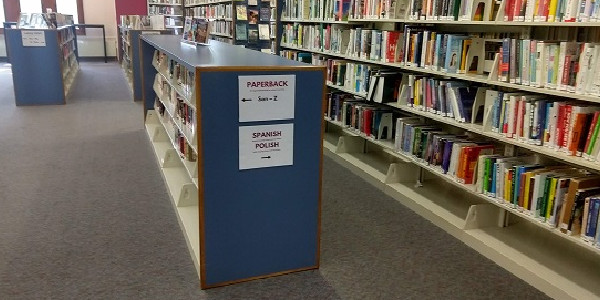 Homebound Delivery
Did you know? Homebound Delivery is available to Berlin residents who are homebound (permanently or temporarily) due to illness, disability, injury, or age. We'll help you select books, music, magazines, audiobooks, large print books, DVDs, or any other library materials—then set up a delivery!
Click the button below to register online. To register by phone, or if you are interested in volunteering, call 860-828-7126.
Events
Check out the Events Page to see upcoming events!