Cookbook Club
Monday, July 31, 2023 — 6:30 pm to 7:30 pm
This month's cookbook is The Complete Summer Cookbook from America's Test Kitchen.
July 31, 2023
Events
> Cookbook Club
This month's cookbook is The Complete Summer Cookbook from America's Test Kitchen.
Do you enjoy flipping through cookbooks to decide what to make?
Do you search through recipes for inspiration?
Come join our monthly book club, featuring cookbooks!
You do not need to be an experienced cook, just enthusiastic!
To participate, register for the program and pick a recipe from this month's cookbook. Make the dish on your own, and then bring it in for a feast. While we eat, we'll discuss the cookbook, its recipes and the process of choosing what to make and how to make it.
Contact the library for a copy of the book.
About the Book
The only cookbook you'll need during the year's warmest months.
A hot day and hanging over your stove were never meant to be. When fresh produce beckons but you haven't much energy to respond, these recipes help you settle into a more relaxed kind of cooking designed to keep you and your kitchen cool. Untether yourself from the oven with make-ahead meals best served cold (or at room temp), like Poached Salmon with Cucumber and Tomato salad and Tzatziki. Fix-and-forget recipes like North Carolina-Style Pulled Pork made in the electric pressure cooker won't steam up the kitchen. Equally easy are dinner salads; we've got enough to keep them interesting and varied, from Shrimp and White Bean Salad with Garlic Toasts to Grilled Caesar Salad. Barely more effort are fresh summer recipes requiring the briefest stint in a pan, such as Beet and Carrot Noodle Salad with Chicken or Braised Striped Bass with Zucchini and Tomatoes.
Ready to take the party outside? You'll find all you need for casual patio meals prepared entirely on the grill (from meat to veggies, even pizza). Throw a fantastic cookout with easy starters, frosty drinks, and picnic must-haves like Picnic Fried Chicken, Classic Potato Salad, and Buttermilk Coleslaw. Visited the farmers' market? Find ideas for main dishes as well as sides inspired by the seasonal bounty, plus the best fruit desserts worth turning on the oven for. To end your meal on a cooler note, turn to a chapter of icebox desserts and no-bake sweets.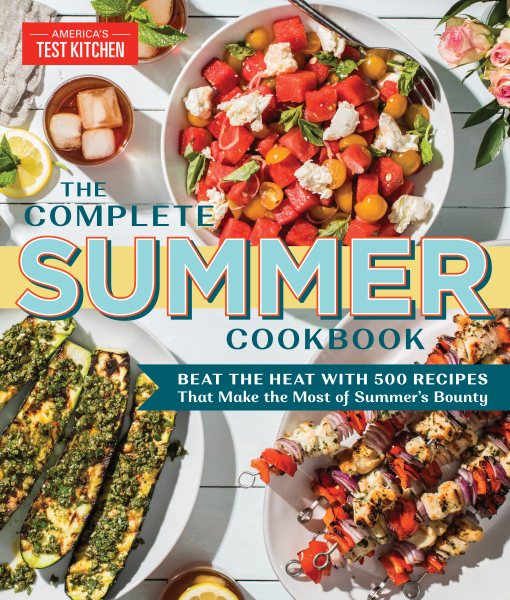 Registration
Online registration is not currently available. Please contact the library with any questions.
---
Photo and Video Disclaimer
The Berlin-Peck Memorial Library, as a public place, reserves the right to photograph and record groups and individuals using library services and attending library programs, and to publish those photographs and videos publicly in its newsletter and on social media outlets. Please contact 860-828-7125 with questions.
Accommodations Statement
If you require special accommodation for any library sponsored event, please call 860-828-7125 or email library@berlinpeck.org at least ten (10) days prior to the event.