Changing Land, Changing Landscape
Monday, October 25, 2021 — 6:30 pm to 7:30 pm
Learn how our current land use and gardening practices impact our wild areas.
October 25, 2021
Events
> Changing Land, Changing Landscape
Event Information
When
THIS EVENT HAS ENDED
Monday, October 25, 2021
6:30 pm to 7:30 pm
iCal / Google Calendar
Online Event
Please register for an invite link.
Watch at the Library
We show online events on our big movie screen (when possible) or in a study room. The event is still online and live, not in-person or pre-recorded.
If you are interested in watching this online event at the library, let us know when you register.
Landscape has changed dramatically over the last 500 years—from forest, to field, to thicket, and back to forest. As the land has changed so has our wildlife. Learn how our current land use and gardening practices impact our wild areas.
Sponsored by the Berlin Land Trust.
About the Presenter
Presented by Margery Winters, Naturalist from Simsbury Land Trust and Roaring Brook Nature Center.
Margery and her family moved from Chicago to Simsbury in 1986 and she brought with her training in geology, hydrology, and soils and prior work in environmental impact assessment at Argonne National Laboratory. In Simsbury, Margery raised her children and became active in a variety of organizations including the Simsbury Garden Club and the founding of the Simsbury Educational Enhancement Foundation. Margery worked for many years on water management issues with Rivers Alliance of Connecticut and has served on the Simsbury Inland Wetlands Commission since 2000. She has found her ideal job as Assistant Director of Roaring Brook Nature Center where she is delighted to be able to share her passion for science and nature with students of all ages. Margery believes the Simsbury Land Trust has a vital role in bringing a better appreciation of the importance of our natural areas to the entire community. She currently serves as vice-president of the SLT Board of Trustees.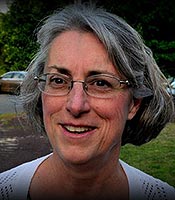 Video Chat
We will meet online with a video chat using Zoom. If you have never used Zoom before, it is very simple and user friendly. We recommend installing Zoom on whichever device you will use (computer, smartphone, tablet) before the program starts. When you click the invite link, you will be prompted to open or install Zoom.