Slide into the New Year with these Children's Books about Arctic Animals!
Penguins: Flight School by Lita Judge Little Penguin has the soul of an eagle, but he wasn't built to soar. With irrepressible spirit, Penguin follows his dreams to flip, flap, fly! Even if he needs a little help with the technical parts, this penguin is ready to live on the wind. Library Catalog One Day […]
January 11, 2021
Penguins:
Flight School by Lita Judge
Little Penguin has the soul of an eagle, but he wasn't built to soar. With irrepressible spirit, Penguin follows his dreams to flip, flap, fly! Even if he needs a little help with the technical parts, this penguin is ready to live on the wind.
One Day on our Blue Planet…in the Antarctic by Ella Bailey
From breakfast to dinner, dusk to dawn, children will love spending the day with this curious penguin chick.  In the latest volume of Ella Bailey's picture book exploration of the daily lives of baby animals, we head to the ice shelf to meet a young penguin chick. What does she and her family eat? How many brothers and sisters does she have? What do they do for fun?
If You Were a Penguin by Wendell and Florence Minor
In this simple, rhyming picture book, the youngest readers will learn about penguins. This is the perfect read-aloud for teachers and parents to share with young children as they imagine what life as a penguin is like!
The short text by Florence Minor pairs perfectly with the gorgeous, detailed illustrations by acclaimed illustrator Wendell Minor. Fun facts about penguins are featured at the back of the book.
Be Brave, Little Penguin by Giles Andreae
A feel-good rhyming story with a positive message about confidence and self-esteem, from the creators of international bestseller, Giraffes Can't Dance.
Little Penguin Pip-Pip would love to join in with all his friends swimming in the sea, but there's just one problem… he's scared of water. Can Pip-Pip overcome his fears and finally take the plunge? This irresistible story shows that sometimes all it takes is a little bit of encouragement – and a whole lot of heart – to finally make that leap!
One Cool Friend by Toni Buzzeo
On a momentous visit to the aquarium, Elliot discovers his dream pet: a penguin. It's just proper enough for a straight-laced boy like him. And when he asks his father if he may have one (please and thank you), his father says yes. Elliot should have realized that Dad probably thought he meant a stuffed penguin and not a real one . . . Clever illustrations and a wild surprise ending make this sly, silly tale of friendship and wish fulfillment a kid-pleaser from start to finish.
Little Penguins by Cynthia Rylant
Newbery Medal–winning author Cynthia Rylant and Caldecott Honor-winning illustrator Christian Robinson pair up to tell this wintry story about five little penguins enjoying a snowy day.
Snowflakes? Many snowflakes. Winter is coming. So begins this ever-so-simple story. As the snow starts to fall, the excited penguins pull out scarves, mittens, heavy socks, and boots, and Mama helps them bundle up. But when it's time to go out, one timid penguin decides to stay home. Filled with waddling baby penguins, playful text, and delightful illustrations, this book feels like a young picture-book classic in the making.
Penguins Don't Wear Sweaters! by Marikka Tamura
This uplifting, charmingly told story, tells what happens when well-meaning humans knit sweaters for penguins who've encountered an oil spill.
You may have seen the cute pictures of penguins wearing sweaters–but did you know why they were wearing them? Debut author Marikka Tamura answers this question in this colorful, kid-friendly book that is told simply and charmingly. Penguins love the sea. Happy in the dark blue water. But what is this? One day something is floating in the water. Dark. Gooey. Oily . . . When the penguins become coated in an oil spill, many Big Boots arrive. The humans want to help the cold, greasy penguins, so they knit sweaters to keep them warm. The Big Boots mean well, but . . . penguins don't wear sweaters! So after a good, soapy scrub, the penguins dive back into the deep blue sea, happily dressed only in their own penguin feathers.
Happy Birthday, Tacky! by Helen Lester
The Nice Icy Land was crackling with busy-ness. It had taken weeks and a lot of whispery chirps for Tacky the Penguin's friends to plan a Perfect Surprise Birdday Party for him on his special hatchday. With songs, presents, cake, fishy ice cream, and surprise entertainment from Iglooslavia's own Twinklewebs the Dance Queen, how could anything go wrong? But it's a comedy of errors . . . and all is far from perfect. Luckily, Tacky's good cheer—and his flippity dance moves—save the day with a flap of his flippers and a tap of his tippywebs. Munsinger's adorable, expressive penguin illustrations are the icing on the cake.
Flora and the Penguin by Molly Idle
Having mastered ballet in Flora and the Flamingo, Flora takes to the ice and forms an unexpected friendship with a penguin. Twirling, leaping, spinning, and gliding, on skates and flippers, the duo mirror each other's graceful dance above and below the ice. But when Flora gives the penguin the cold shoulder, the pair must figure out a way to work together for uplifting results. Artist Molly Idle creates an innovative, wordless picture book with clever flaps that reveal Flora and the penguin coming together, spiraling apart, and coming back together as only true friends do. Plus, this is a fixed-format version of the book, which looks nearly identical to the print version.
Polar Bears:
I'm Going to Give You a Polar Bear Hug! by Caroline B. Cooney
Let's get ready to snuggle! This highly engaging sequel to the bestselling and beloved I'm Going to Give You a Bear Hug! imagines all the cozy, warm hugs little ones love to receive on cold, blustery days.
The story encourages parents and grandparents and their children and grandchildren to giggle and play as they cozy up for their own celebration of the winter season. Imagine who might stomp, sled, and swish through the snow to give a warm hug in these whimsical rhymes and sweet, playful illustrations.
Polar Bear Night by Lauren Thompson
A polar bear cub . . . A nighttime journey . . . A bedtime story of love and wonder.
One keen, clear night, a polar bear cub wakes inside her warm den. Something in the moonlit stillness quietly beckons. What is it?
The little cub sets out for the snow and sky and sea and ice, and the moon follows. So begins a magical journey through a starlit world filled with love and wonder. Soothing words and luminous pictures make this nighttime tale as comforting as a goodnight kiss.
Polar Bear's Underwear by Tupera Tupera
Polar Bear has lost his underwear! Where could it be? There's only one thing to do: Remove the book's underwear-shaped bellyband to find the missing pair! Is that Polar Bear's underwear? No, it's Zebra's—see the colorful stripes? What about that itty-bitty pair? No, those belong to Butterfly! And so the search continues, with every page revealing an animal in eye-popping undies. This laugh-out-loud, one-of-a-kind novelty book from Japanese design talents tupera tupera will surprise and amuse children and their parents, all while affirming the importance of putting on your underwear.
A Polar Bear in the Snow by Mac Barnett
Follow a magnificent polar bear through a fantastic world of snow and shockingly blue sea. Over the ice, through the water, past Arctic animals and even a human…where is he going? What does he want? Acclaimed author Mac Barnett's narration deftly balances suspense and emotion, as well as poignant, subtle themes, compelling us to follow the bear with each page turn. Artist Shawn Harris's striking torn-paper illustrations layer white-on-white hues, with bolts of blue and an interplay of shadow and light, for a gorgeous view of a stark yet beautiful landscape. Simple and thought-provoking, illuminating and intriguing, this engaging picture book will have readers pondering the answer to its final question long after the polar bear has continued on his way.
Poles Apart by Jeanne Willis
Everybody knows that penguins belong at the South Pole and polar bears live at the North Pole – but what would happen if, one day, a family of picnicking penguins accidentally got lost? When the hapless Pilchard-Brown family find themselves at completely the wrong pole, they need Mr. White, the friendly polar bear, to guide them all the way home…
Polar Opposites by Erik Brooks
Alex is a BIG polar bear. Zina is a tiny penguin. Alex lives in the Arctic. Zina lives in the Antarctic. Alex and Zina are polar opposites! They live on opposite sides of the world. Their personalities are very different, too. But they find a way to meet in the middle. Erik Brooks' simple text and vibrant watercolor illustrations bring opposites to life in this lively look at two unusual best friends.
Sea Bear: a Journey for Survival by Lindsay Moore
Imagine you are a polar bear.
Your coat is thick. Your teeth are sharp.
Your front paws are paddles, your back paws are rudders, and you can swim for miles.
Your home has always been the sea and the ice.
A sea bear, far north in the Arctic, hunts and naps and raises her young. She moves with the ice, swimming, running, stalking seals, resting. She follows the rhythm of the sea and the seasons.  But what happens when those rhythms change? What happens when there is no ice?  Lindsay Moore shares the story of one polar bear's journey for survival in this stunning picture book.
The Bear Report by Thyra Heder
A girl and a polar bear take a stunning journey through the Arctic in this award-winning picture book from the author-illustrator of Alfie and How Do You Dance?
What's there to say about polar bears? They're big. They're mean. They eat things. Bor-ing. At least that's how Sophie feels when she sits down to do her homework.
But then something decidedly unboring happens—Sophie is whisked away to the Arctic by a jovial polar bear named Olafur. In a whirlwind of a day, he shows the reluctant Sophie the many brilliant things there are to see in his home, from glacier mice to the northern lights. Sophie begins to learn that the polar bear's home is so much more than a barren, frozen land. It's a world filled with life, adventure—and a new friend.  The Bear Report showcases the power of curiosity to fill any blank canvas, whether it's an incomplete homework assignment or the Arctic ice.
Puffins, Snowy Owls, Walruses, Seals, and More:
Little Owl's Snow by Divya Srinivasan
Little Owl experiences his first snow and first winter in this perfect follow-up to Little Owl's Night and Little Owl's Day!
Winter's almost here! says Little Owl, as he observes leaves falling, animal friends hibernating, and a chill from his feathers to his feet. And just as he and his friend racoon are watching their breath make fog in the cold air, it happens: Snow! Here is the perfect follow-up to Little Owl's Night and Little Owl's Day, and a wonderful introduction to the changing of the seasons!
Owl Babies by Martin Waddell
This is the story of three baby owls who wake up one night in their hole in the tree to find that their mother has gone, so they sit on the branch and wait, wondering when she will return. At last she does, and they all bounce up and down with joy, welcoming her home.
Nothing Like a Puffin by Sue Soltis
There's nothing like this book! Bold, charming artwork enlivens a fun and clever game of compare-and-contrast for curious kids and puffin lovers alike.
A puffin is an amazing creature. It's completely unique and one-of-akind. A ladder is nothing like a puffin. A house is nothing like a puffin. A newspaper is nothing like a puffin… But wait! Who would have guessed? Could these things be more alike than you think? Young children will love following this mischievous puffin in an entertaining exercise in creative classification– and are guaranteed to start looking at everyday things in a whole new way.
Where's Walrus? By Stephen Savage
A happy-go-lucky Walrus escapes the zoo in search of adventure in this wordless instant classic.
Bored with life at the zoo, an adventurous walrus escapes to the outside world. With the zookeeper in hot pursuit, Walrus cleverly tries on all sorts of hats to disguise himself. Will a yellow hardhat point to a new life as a construction worker? Or will a red swimming cap reveal his true talents? Follow the happy-go-lucky runaway as he hides amongst firefighters, businessmen, and even high-stepping dancers in this delightful wordless picture book.
With Your Paw in Mine by Jane Chapman
Miki, an otter pup, loves to snuggle on her mama's tummy. And Mama holds Miki's paws while she teaches her how to swim. One day while Mama is out gathering food, Miki meets another otter pup named Amak, and the two become best friends. Then one day, a terrible storm rages in the ocean, and Miki and Amak hold each other's paws tightly. Will it be enough to keep them safe?
Snowy Bear by Tony Mitton
Here is a bear who has nowhere to go, so he's plodding along through the cold winter snow.
In the icy-cold heart of winter, a little snowy bear wanders through the snow and searches for a home. But where can he go? Each warm place has been claimed, and there is no room for a bear, no matter how little. Suddenly he sees a flickering of light, orange and bright against the snowy ground. It's a house!
As Snowy Bear pushes open the creaking door, he feels warmth spread over him. There's a girl by the window, who's also looking for a friend, and, somehow, deep down, Snowy Bear knows that he is home.
Not Quite Narwhal by Jessie Sima
Growing up in the ocean, Kelp has always assumed that he was a narwhal like the rest of his family. Sure, he's always been a little bit different—his tusk isn't as long, he's not as good of a swimmer, and he really doesn't enjoy the cuisine. Then one night, an extra strong current sweeps Kelp to the surface, where he spots a mysterious creature that looks just like him! Kelp discovers that he and the creature are actually unicorns. The revelation leaves him torn: is he a land narwhal or a sea unicorn? But perhaps, if Kelp is clever, he may find a way to have the best of both worlds
Once Upon a Northern Night by Jean E. Pendziwol
In this exquisite lullaby, the beauty and wonder of a northern winter night unfold, with images of a soft snowfall, the wild animals that appear in the garden, the twinkling stars, the gentle rhythm of the northern lights and the etchings of frost on the window pane.
Board Books:
Penguin and Pinecone by Salina Yoon
When curious Penguin finds a lost pinecone in the snow, their friendship grows into something extraordinary!
Your Personal Penguin by Sandra Boynton
Your Personal Penguin is an irrepressible, read-aloud, listen-along favorite for young children and the grown-ups who read to them. Fun to hold, the book tells the story of a slightly bewildered hippo and the loyal penguin who wants nothing more than to be his pal.
Little Owl's 123 by Divya Srinivasan
Little Owl flies through the night forest, visiting his friends. One friendly fox says hello, two beavers wave, three skunks nibble berries. And when Little Owl finally reaches his own tree, he sees Raccoon who has gathered ten acorns. Sweetly told, 1-2-3 is just right for children learning their numbers!
Arctic Animals by Tad Carpenter
He has big antlers, runs fast on hoofed feet, and likes to eat plants. Who's that? Is it a polar bear? A seal? No—it's a reindeer! Children will love guessing which arctic animal they'll find beneath the flap, including a walrus, fox, and snowy owl. A final spread features all the creatures included in the book having a polar party.
Non-Fiction:
A Moose's World by Caroline Arnold
The newborn moose twitches his ears in the tall grass. He's lanky and wobbly. But he grows quickly. Soon he's nibbling leaves, swimming behind his mother, and outrunning wolves. Trek through the pages of this book and find out what happens in a moose's world. (Gr. K-2)
Plenty of Penguins by Sonia Black
Filled with informative facts and told in simple and delightful rhymes, this easy-to-read title is the perfect introduction to the world of penguins. Readers will learn about a variety of penguins, their living and eating habits, and more. (Pre-K-1)
Snowy Owl Invasion! Tracking an Unusual Migration by Sandra Markle
Late in 2013, snowy owls started showing up in places no one expected to find them–including Florida. What had caused so many of these majestic birds to leave their Arctic home and fly to southern Canada and the United States? Scientists quickly began working to find out. Author Sandra Markle brings together firsthand reports from the scientists involved along with stunning photographs of the owls to explain this rare event, known as an irruption. Follow along as scientists figure out why snowy owls took part in this unusual migration and discover what they learned from the unexpected opportunity to study them up close. (Gr. 4-6)
A Seal Named Patches by Roxanne Beltran and Patrick Robinson
Scientists Roxanne Beltran and Patrick Robinson set off on a polar adventure, traveling to Antarctica to study the lives of Weddell seals. By finding Patches, a wily seal they've been tracking since its birth, they'll be able to learn a lot about how much the seals get to eat and how many pups they raise. A Seal Named Patches takes young readers into the world at the very bottom of the globe, where they meet the extraordinary animals that live in cold, icy conditions. Through breathtaking photos and real-life stories, young readers will learn about how scientists do fieldwork, the challenges of researching animals in harsh climates, and even what it's like to fly a helicopter over Antarctica. (Gr. K-2)
Polar Bears and the Arctic by Mary Pope Osborne and Natalie Pope Boyce
When Jack and Annie got back from their adventure in Magic Tree House #16: Polar Bears Past Bedtime, they had lots of questions. Why is the Arctic so cold? What did the first people of the Artic eat? How do polar bears cross thin ice? What other animals live in the Arctic? Find out the answers to these questions and more as Jack and Annie track the facts. Filled with up-to-date information, photos, illustrations, and fun tidbits from Jack and Annie, the Magic Tree House Fact Trackers are the perfect way for kids to find out more about the topics they discovered in their favorite Magic Tree House adventures. (Gr. 3-5)
Arctic Foxes by Carri Stuhr
In this Early Bird title, readers learn about the physical characteristics, habitat, and behavior of the arctic fox. (Gr. 2-5)
Polar Bears by Laura Marsh
With their beautiful white fur and powerful presence, polar bears rule the Arctic. These majestic giants swim from iceberg to iceberg in chilling waters, care for their adorable cubs, and are threatened by global warming. In this level 1 reader you'll learn all you ever wanted to know about polar bears and so much more. Complete with fascinating facts and beautiful images, National Geographic Readers: Polar Bears can't miss. (Gr. K-2)
Penguins by Jenny Markert
An intriguing look at the physical characteristics, behavior, habitat, and life cycle of various penguin species, as well as numerous interesting factoids on everything from feather density to toe shape. (Gr. 1-3)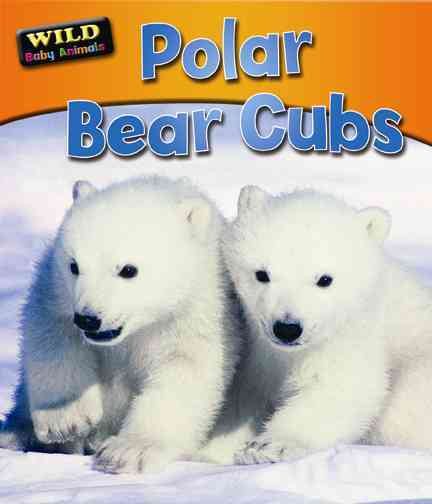 Polar Bear Cubs by Ruth Owen
The North Pole is home to few mammals. It is far too cold for most to survive. Luckily, polar bears have a thick layer of fat and a heavy fur to keep them warm in this climate. In this unforgiving world, the bears dig dens in the snow to survive each winter. Inside, where they stay until spring, the mother bears cubs are born. When the weather has warmed up enough for the bears to come outside, the mother takes her cubs along as she hunts for food. Readers will see how the cubs learn to wait by holes in the ice for seals to pop up, or swim through the icy water to find their prey and eventually learn to live and hunt on their own. Combining colorful photos and clear, simple text, this coming-of-age introduction to polar bear cubs is sure to delight emergent readers.  (Gr. K-2)