June Newsletter
Library opens for curbside pickup.
June 1, 2020
Curbside Service
June 1st has arrived, and with it, the debut of our curbside service to provide materials to library patrons of all ages. Here's what you need to know:
The Basics:
Please place your hold requests through our online catalog or by calling 860-828-7125.When your items are available, we will notify you and schedule a pickup time.
The Fine Print:
Pickups will be limited to one bag per day.
The library will provide a plastic bag which will hold up to the equivalent of 10 children's picture books, 5-6 adult hardcovers, or 12-15 DVD's. Feel free to mix and match.
Until interlibrary loan services resume, we will only be able to fill holds on items belonging to Berlin-Peck Memorial Library.
All materials are holdable except Mobile Hotspots, Cake Pans, Children's Backpacks, and Launch Pads.
All items being returned to the library must be placed inside the book drop.
The Future
As we work to clear up the backlog of over 7,000 materials being returned as well as processing your holds on items since March, we are also thinking of ways to bring back other services. Although there will not be any in-person programs, meetings, craft workshops, passport and notary services, we will continue to bring you many things online. We will eventually begin taking appointments for computer use and find a way to let our copier and scanners be used again. Everything will look different and our policies, formerly unrestricted, will require limitations.
Knowing how many of you are anxious to get back to the library you were familiar with, we regret that we will have to temporarily curb your access. Until there is a vaccine or pharmaceutical for COVID in place, we will limit crowds, and encourage social distancing and mask wearing. We've worked hard over the years to make BPML a warm, welcoming place to visit, congregate, learn and be entertained and we will get to that point again.
We still miss you and are glad that we will, at the very least, be able to get you new materials to read and watch. Keep an eye on our webpage and Facebook page to stay up to date with the latest information on our slow reopening.
Enjoy the beginning of summer!
Best,
Helen Malinka
Library Director
Returning Books and Other Items
Curbside pickup services start June 1! Place your hold requests through our online catalog or by calling 860-828-7125. When your items are available, we will call you to schedule a pickup time.
The book drop is now open Monday–Friday, 8 am to 4 pm.
Due dates for all older items have been extended to June 26.
Contact Us
You can still reach a librarian Monday through Friday, 9:00 am to 5:00 pm. We are expecting a high volume of calls—if no one picks up, please give us a few minutes and try again.
For more updates, like Berlin-Peck Library or Berlin-Peck Children's Department on Facebook or follow us on Twitter!

Hearts for Heroes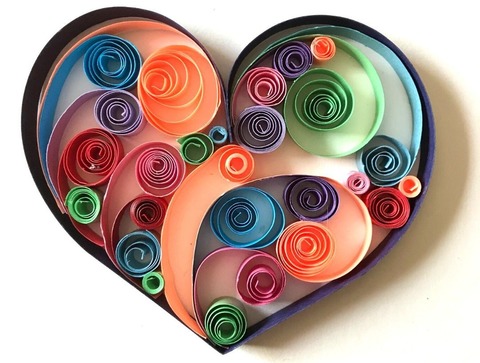 Show your support for healthcare and frontline workers by making a heart to display in our windows.
You can make any kind of heart you would like – any size, decorated, drawn, painted, cut out, or not. Take them to the library and leave them in our "heart collection" basket out front, weekdays from 9 am to 5 pm, throughout the month of June. Please sign your decorated heart (and provide contact information) if you'd like it back once the display comes down.
We will also be providing tutorial videos and "Take & Make" craft kits for creating special quilled and woven paper hearts.