October Newsletter
October means changing leaves—and book releases! Plus our Vaccine Clinic on October 21, upcoming Director's hours, and our new subscription to BBC Literary Adaptations.
October 1, 2021
From the Library Director
Hello!
Anne Shirley once said in Anne of Green Gables, "I'm so glad to live in a world where there are Octobers." I agree! I love it, not only for the changing leaves, but for the book releases. October and November are generally busy as publishers gear up for the holiday season. This year, I'm eyeing the new release by Amor Towles, The Lincoln Highway, (available October 5) and Miss Eliza's English Kitchen by Annabel Abbs (out October 26). The mere mention of Downtown Abbey and "inspired by a true story" in the review convinced me to add it to my list!
Books are only a part of what makes your public library so powerful. We provide lifelong opportunities to learn, connect, enjoy, and discover. Through partnerships like our Hartford Healthcare COVID-19 Vaccine Clinic on October 21, lectures, classes, job search support, take and make projects, online resources, small business resources, outdoor story times, and passport processing, we offer a world of possibility. And if you need assistance, our trained staff can help you find exactly what you need. Beginning on October 20th, I will have evening hours at the library on the 3rd Wednesday of each month. On those days I will be available until 8pm. Stop by and say hello! I welcome your visits, questions, concerns, and ideas for how we can make our library even better.
And finally, we heard your disappointment at losing Acorn TV. While this service isn't available to libraries anymore, you can access some content on Hoopla, and we just added a new resource full of period dramas and BBC specials. BBC Literary Adaptations is now available with your library card. Look for it under ebooks and audiobooks on our website.
Wishing you a wonderful October and we hope to see you at the library soon.
Warmly,
Kim McNally
Library Director
Library Hours
Weekday hours are 10am–8pm, 5pm on Fridays.
Saturday Hours are 10am–4pm.
Senior hours are Wednesdays and Fridays, 9am–10am.
Closed due to Columbus Day on Monday, October 11.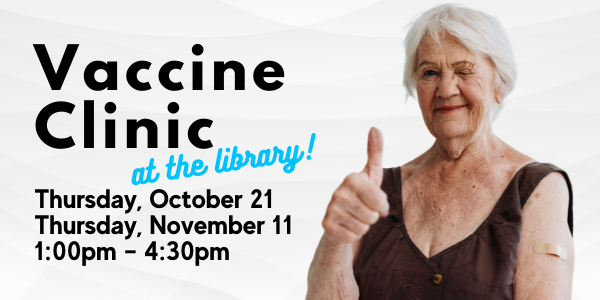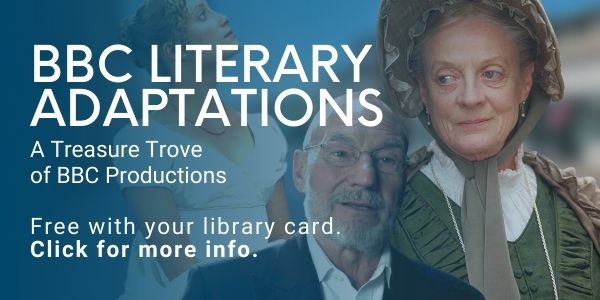 Events
Check out the Events Page to see upcoming events!